Exion Fractional RF Microneedling Provides Deep Healing
There's something about having smooth, plump skin. Whether it's on your face, your hands, your décolletage, or elsewhere on your body, it exudes both beauty and a sense of youthful appeal.
For deep skin rejuvenation, Exion RF Microneedling in Chicago provides several unique modalities that can combine microneedling, RF (radiofrequency) thermal therapy, and ultrasound energy to help your body help itself.
Exion RF Microneedling in Chicago Helps With:
How Exion RF Microneedling in Chicago Works
01.
What It Does
---
Exion combines 2 types of energy with microneedling to create an ultimate skin solution for your face. Through the use of artificial intelligence (AI), the Exion system provides deep treatment in a single pass!
02.
Fractional RF
---
Because of Exion's unique monopolar radiofrequency (RF) delivery system, the RF energy can penetrate into deeper skin layers, up to 8mm, without inserting the microneedles that deep.
03.
Targeted Ultrasound
---
Skin laxity can cause sagging, drooping, and more wrinkles. The ultrasound energy introduced by Exion in Chicago tightens skin and increases skin volume as it boosts the body's natural collagen production.
04.
Deep Treatment
---
Through the use of AI, Exion allows for single-pass procedures that deliver optimal energy strengths and depths across 23 areas on your body. Experience reduced discomfort even as it maximizes your results.
Less Pain and More Gain With Exion RF Microneedling in Chicago
Skin rejuvenation innovations in both technology and technique have achieved a new level of non-surgical performance with the Exion system from BTL. Exion's versatile device capabilities can treat 23 different areas of your skin, from head to toe, for aesthetic improvements covering a variety of cosmetic issues. Non-surgical skin rejuvenation treatment offers a safe and effective way to achieve a more youthful appearance without the risks and downtime associated with surgery.
The state-of-the-art Exion system utilizes 4 different applicators for skin rejuvenation:
Face Applicator. Delivers both RF Microneedling and ultrasound technology for smoother, tighter skin.
Body Applicator. Same skin rejuvenation abilities as the face applicator, only larger to accommodate the body.
RF Microneedling Applicator. Delivers radiofrequency (RF) energy up to 10mm while improving skin tone, texture, and health.
Emfemme 360 Applicator. Improves feminine intimate health and aesthetics while providing relief from pain and muscle spasms.
None of the applicators require incisions or anesthesia, making Exion treatment a safe and convenient non-surgical option to stimulate collagen production and tighten the skin almost anywhere you need on your body.
The Exion skin rejuvenation treatment involves the use of microneedling combined with radiofrequency energy and ultrasound to target the deeper layers of the skin. These combined treatment modalities promote your body's natural healing abilities, including increasing production of collagen and elastin. The modalities utilized during your treatment will vary, based upon your goals and concerns. All treatments allow you to relax as your Heal n Cure provider delivers your therapy.
Exion in Chicago is a minimally invasive, non-surgical skin rejuvenation procedure that combines microneedling with radiofrequency technology and ultrasound therapy to improve skin texture and tightness. Contact us to get treatment and discuss which applicators will best achieve your aesthetic and wellness goals.
About Dr. Meena
Dr. Meena Malhotra, MD is a Double Board-Certified Physician and a leading expert on Integrative and Functional Medicine.
This was my first time meeting Dr. Meena and I thought she was fabulous! On a personal level she's very upbeat and passionate. As a doctor she really has a depth and breadth of knowledge that is very hard to find. We're going to meet again to investigate an issue no one else has been able to discover much less treat. She doesn't seem the type satisfied with the status quo so I'm convinced she'll get to the bottom of it!
Kasey C.
Functional Medicine for Whole-Person Care
Heal n Cure identifies and addresses the root cause of health concerns, creating a personalized, achievable plan for your journey to wellness. Our "test, don't guess" principle uses science-based diagnostics as the foundation for unique, whole-person health.
Combining the best of Western and Eastern medicine, Dr. Meena's Heal n Cure functional medicine clinic creates better health for life.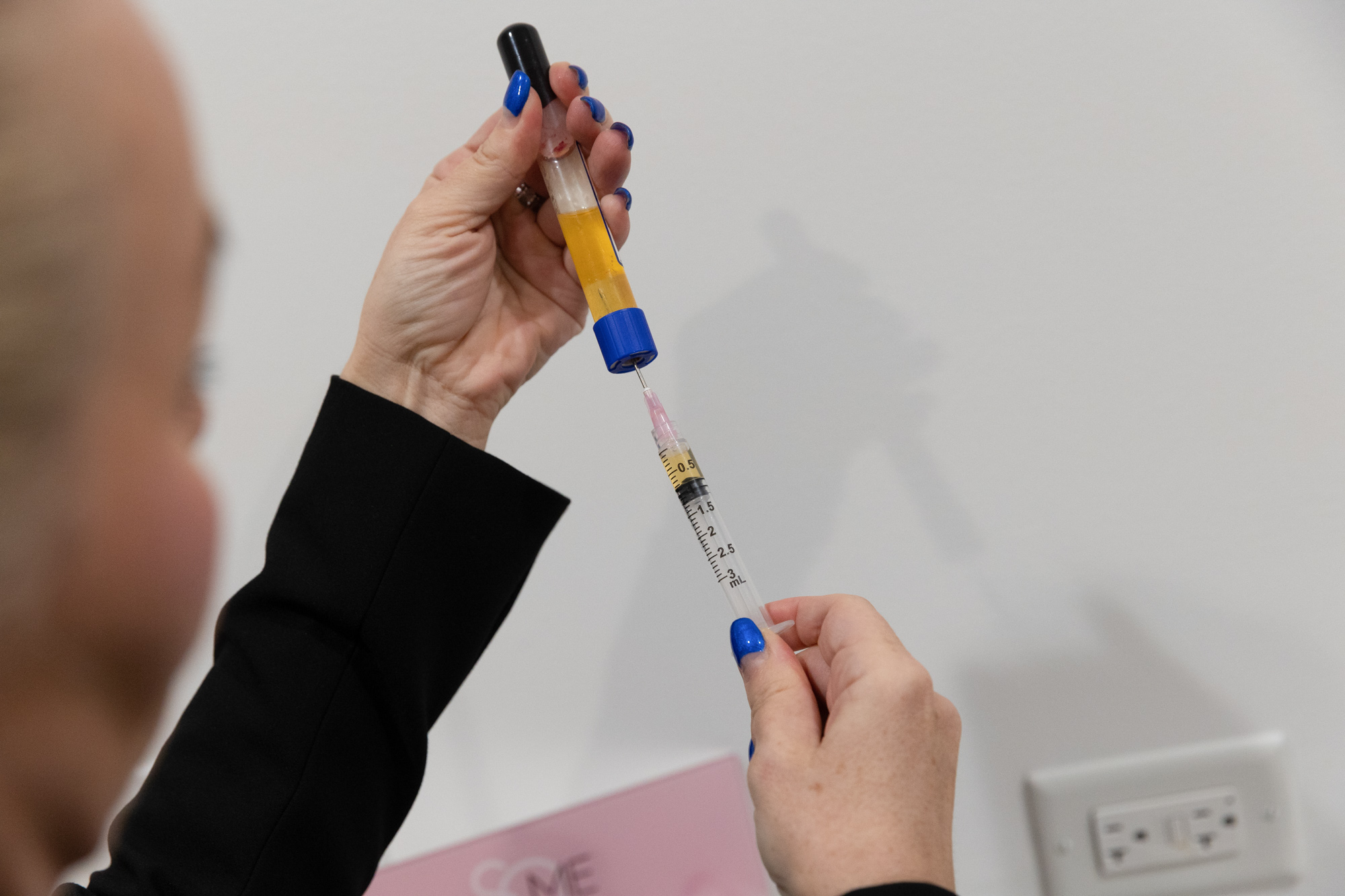 Get Started
Curated by Dr. Meena, use our Virtual Consultation Tool to explore treatment recommendations for your unique concerns.
Frequently Asked Questions About Exion in Chicago
Depending on which Exion treatment modalities will best accomplish your aesthetic and wellness goals, you may experience mild side effects in the treatment area(s), such as:
Redness
Slight swelling
Small, pinpoint bleeding
All of these are temporary and will subside within a few hours to a few days. There's zero downtime required with Exion, and you may resume your regular daily activities immediately after treatment.
Exion in Chicago combines fractional RF, ultrasound energy, and microneedling—all driven by advanced artificial intelligence processing.
Depending on the modality chosen for your specific needs, Exion treatment can include the application of micro-needles, which create thousands of minuscule micro-punctures on the skin's surface. As the needles pierce the outer layers of skin, Exion delivers controlled radiofrequency energy in fractional patterns, which penetrate up to twice the needle's depth into the skin's tissues.
This AI-driven delivery process optimizes the treatment, ensuring precise coagulation of deep tissues. The micro-injuries, RF energy, and ultrasound stimulate fibroblast activity and collagen production, which leads to firmer, tighter, and more youthful skin across 23 treatment areas.
The Exion system by BTL includes BTL's groundbreaking Emfemme 360 treatment modality.
This advanced technology uses a comfortable, hand-held application wand that gently glides into the vagina. Once there, your Heal n Cure provider delivers RF energy in a 360-degree radius for unilateral volumetric heating.
When it comes to feminine rejuvenation, Exion's Emfemme 360 modality provides the shortest RF intimate treatment available. You can enjoy intimate health benefits, including:
Reduced urinary incontinence caused by laxity
Temporary relief from muscle spasms/pain
Reduced vaginal laxity
Improved lubrication
More intense orgasms
Increased circulation
Improved visual aesthetics
Exion's treatment modalities promote your body's natural healing powers to transform skin and improve intimate wellness. Because it takes time for your body to accomplish this, most results won't be apparent immediately after treatment, though some will appear after your first treatment. Within a few weeks after your last treatment, you should begin to notice improvements in skin tone, including reduced pigmentation, enhanced volume, and a more youthful "glow." Because every patient is unique, results vary on a case-by-case basis.
As your skin continues to produce new collagen fibers, elastin, and elevated levels of hyaluronic acid, you'll enjoy smoother skin with fewer lines and wrinkles. This also provides stronger support for skin structure, reducing the appearance of sagging/drooping skin.
While your dermal layers become more hydrated and plumper, indented scarring will be reduced—including acne scarring and stretch marks in your treatment area(s).
Your Heal n Cure provider will give you instructions on home-based skincare to best support your treatments, and can help you schedule follow-up sessions to maintain longer-lasting, positive results.
Your Heal n Cure provider will give you specific aftercare instructions based on your specific situation and your chosen modalities for Exion in Chicago.
Some of the most common aftercare instructions include:
Avoiding sun exposure for 3 to 5 days.
Moisturize using medical-grade skincare products to keep your skin well-hydrated.
Refraining from applying makeup for 24 hours in the treatment area after microneedling.
Not swimming or using a sauna for 72 hours after your Exion treatment.
Limiting your physical activity for 72 hours to avoid excessive sweating.
Cleansing only with mild, non-abrasive cleansers and lukewarm water. No harsh scrubs/exfoliants.