Build Muscle and Collagen Support for Better Aging
The good news: we're living longer than ever. The bad news: our skin hasn't quite caught up to the fact. The natural effects of aging combine with years of sun and environmental damage to make wrinkles more apparent, cause uneven skin tone, and affect the shape of your face.
Emface in Chicago rebuilds lost facial muscle tone while simultaneously enhancing collagen and elastin production. Fill hollows, increase volume, and provide the support that gives your face a gentle, gorgeous lift.
Emface in North Chicago Helps With:
Loss of feature definition
How Emface in Chicago Works
01.
What It Does
---
Emface combines two therapies into a single treatment. Using comfortable cheek and forehead applicators, Emface rebuilds feature support while improving skin tone and health.
02.
HIFEM Energy
---
During treatment, the applicators use high-intensity focused electromagnetic technology (HIFEM) energy to cause muscle contractions that rebuild support.
03.
RF Energy
---
Simultaneously, radiofrequency (RF) energy heats your dermal layer, boosting your body's natural collagen and elastin production for more volume, better skin health, and that youthful "glow."
04.
A Lifted Look
---
Because Emface treatments tighten skin, plump hollows, and provide better muscle support, your face achieves a lifted look naturally without need for surgery or injections.
Non-Surgical Emface Treatment in Chicago
Non-surgical facial rejuvenation has become a "facelift" of choice in the United States. Recent advancements in technology and techniques allow patients to enhance their appearance via a wide range of treatment options—all without going under a scalpel. Non-surgical facial rejuvenation treatments at Heal n Cure offer safe and effective approaches for achieving a more youthful appearance, minus the risks and downtime associated with surgery.
A facial framework rejuvenation treatment rebuilds the muscles that support your face. These muscles can atrophy due to the natural effects of aging. Emface in Chicago helps rebuild those muscles, adding volume to the muscle size while improving their ability to support and lift your facial features.
Your facial framework rejuvenation treatment directs HIFEM energy at specific muscle groups in your forehead and cheeks through comfortable Emface applicator pads. These energy pulses trigger up to 75,000 muscle contractions in each 20-minute session! With this kind of muscle building workout, your forehead/brows can be rebalanced, your jawline can be firmed up, and your sagging/drooping cheeks and jowls can be subtly lifted. 
Emface in Chicago also delivers RF (radiofrequency) energy into the treatment area. The RF frequencies gently heat your dermal layer, triggering your body's healing processes. Your skin increases production of collagen and elastin, providing improved volume, tighter skin with less sagging and fewer wrinkles, and increased capillary response for a healthier, glowing skin tone. Contact us today to schedule your Emface treatments in Chicago, IL.
About Dr. Meena
Dr. Meena Malhotra, MD is a Double Board-Certified Physician and a leading expert on Integrative and Functional Medicine.
I started seeing Dr. Meena five years ago. She is extremely thorough in her evaluation and treatment plans. She treats the whole body in a comprehensive manner and gets to the root of the issue. She is my primary MD and I am very happy with my care. Five stars!
Janis A.
Functional Medicine for Whole-Person Care
Heal n Cure identifies and addresses the root cause of health concerns, creating a personalized, achievable plan for your journey to wellness. Our "test, don't guess" principle uses science-based diagnostics as the foundation for unique, whole-person health.
Combining the best of Western and Eastern medicine, Dr. Meena's Heal n Cure functional medicine clinic creates better health for life.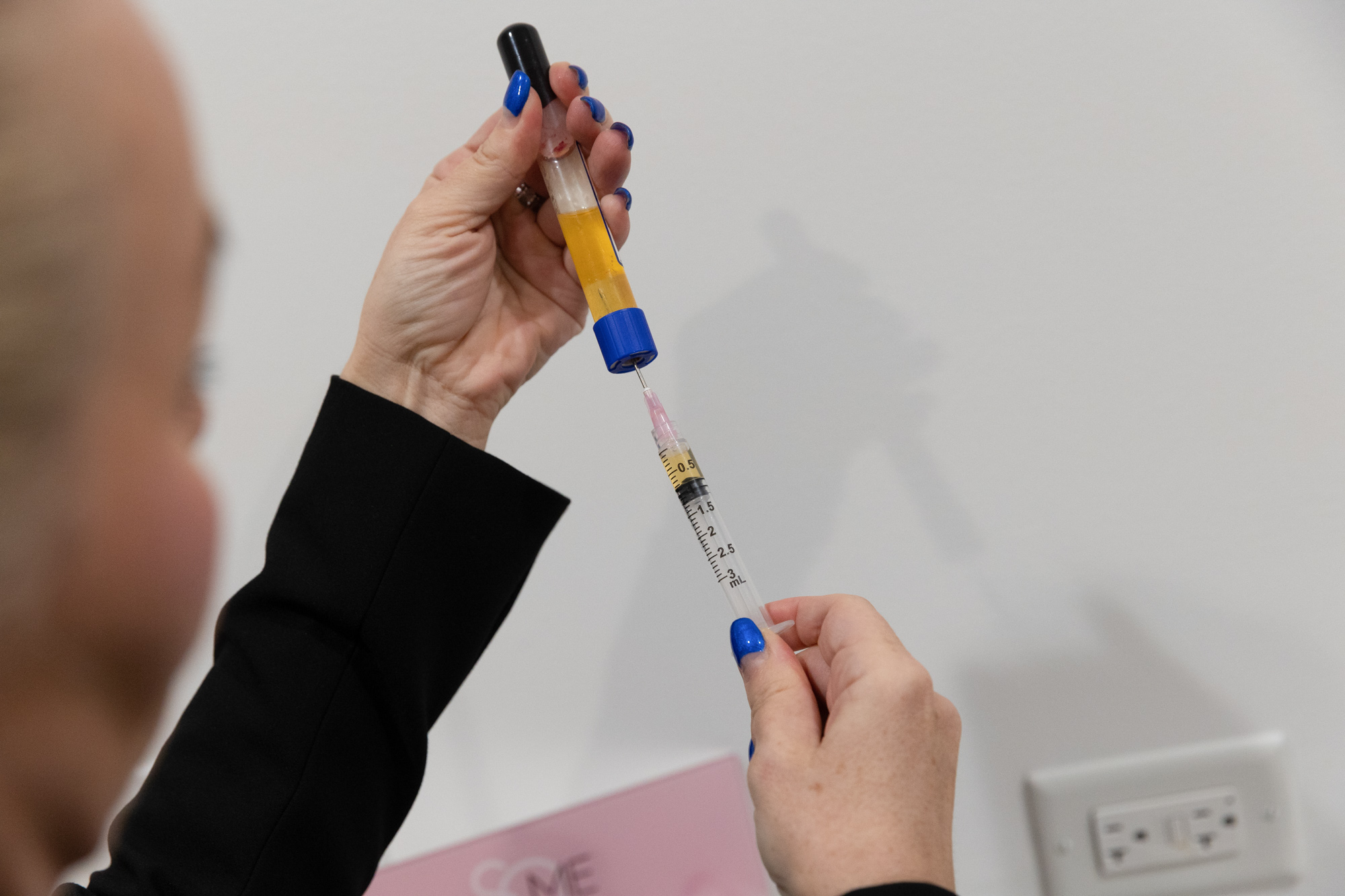 Get Started
Curated by Dr. Meena, use our Virtual Consultation Tool to explore treatment recommendations for your unique concerns.
Frequently Asked Questions About Emface
Emface in Chicago makes an excellent choice for anyone who wants to reverse signs of aging and achieve a subtle but effective "facelift" without surgery or injections. It's appropriate for all skin types and adults of all ages.
You may not be a candidate if you:
Have metal implants in your face/facial bones.
Use a pacemaker.
Have muscular problems.
Suffer from skin conditions or active infections.
Are pregnant.
Dental implants aren't an issue.
No, Emface at Heal n Cure is a painless therapy. What patients most frequently mention about the treatment is the feeling of slight warming underneath the therapy pads. The facial muscle contractions may feel a little odd because they occur outside of your control. However, the contractions themselves are also pain-free.
As a non-invasive, non-surgical facial rejuvenation treatment, Emface in Chicago requires zero downtime, and you can get back to your regular daily activities immediately after your session.
Emface at Heal n Cure has been proven effective both in clinical studies and for our patients. According to study results, after receiving 4 20-minute sessions that are spaced 2 to 14 days apart, patients generally achieve a:
37% reduction in wrinkles.
30% increase in facial tone.
23% increase in lifting.
These results are delivered without the use of needles or scalpels. They also don't scar and require no downtime or long recovery periods.
Absolutely, women and men can have Emface treatments at Heal n Cure. Anyone who has concerns about the effects of aging on their facial aesthetic and doesn't want to endure surgical solutions should consider the non-surgical lifting and skin-health-enhancing benefits that Emface treatments offer. Emface's dual modality therapies can address:
Sagging forehead skin
Fine lines & wrinkles
Sagging skin on the neck
Mild facial sagging
Drooping eyelids/skin around the eye (a "lateral eye lift")
Emface works excellently when combined with other treatments, achieving higher levels of facial rejuvenation results. You might consider adding Emface to any of these treatment plans for heightened aesthetic benefits:
PRP Facial Rejuvenation
Hormone Replacement Therapy
IPL Photofacial
Morpheus8
Microneedling

SoME® Skincare Products